An amateur guitarist, lyricist, ACCA member and head of Cyprus's national accountancy body, Kyriakos Iordanou has yet to write a song about being an accountant. He just writes normal songs and lyrics, doing so since he was a young man. "It's something that takes my mind away from the daily routine, tests my brain and builds up my emotional intelligence skills", he says.
Iordanou is the general manager of the Institute of Certified Public Accountants of Cyprus (ICPAC). But being a member of (at least) two professional institutes, gives him a unique position from which to survey the profession and its challenges.
We caught him during his last visit in London for meetings with ACCA. The conversation soon reveals he is immersed in many of the big issues affecting the profession today: he talks enthusiastically of the association, its influence on his career and its work with ICPAC; assumes a critical tone to discuss the role of accountants with ESG and worries about finding new recruits for training in the profession.
Above all, however, Iordanou stresses his pragmatic, no-nonsense approach to accountancy. 'The work of accountants is often misperceived or just taken for granted. Things have changed significantly over time and evolved with the digital age, yet accountants remain business people focusing on their own, more specialised, field of competence, doing things in a more practical manner.'
Hugely experienced
Iordanou should know. His 12 years at ICPAC's helm form part of a 29-year career in the profession. He started work in 1995 as a credit officer at the Bank of Cyprus Factors where he completed his studies and qualified as an ACCA member and then as an ICPAC member.
He moved on to become the financial controller of JG Cassoulides & Son, a listed company in the printing industry. He then took over as the financial controller of another public company operating in the retail sector, before offering his services as an external consultant in the areas of financial management and corporate governance from a consulting firm in which he was a partner till 2004. He then joined the public sector as the chief accountant and subsequently as the internal auditor of the Human Resource Development Authority of Cyprus, a state-owned organization, before eventually joining ICPAC.
'The ACCA Qualification has allowed me to see all the angles in the profession and equipped me to think more critically and analytically.'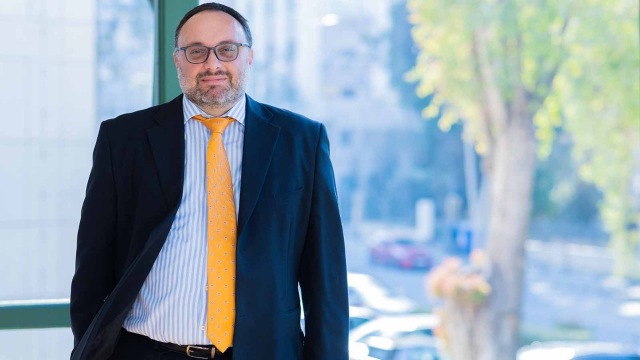 No regrets
Despite the early attraction to performing arts, Iordanou has no regrets. 'I pursued a professional qualification which opened my horizons. This is what a qualification in accountancy does.'
Iordanou's list of qualifications needs a bookkeeper of its own, but he says the 'underlying foundation' is ACCA. 'It's allowed me to see all the angles in the profession and equipped me to think more critically and analytically. I tend to think with more scepticism, whilst approaching matters before me from a birds-eye view. ACCA opened and shaped my career.'
That career is now about grappling with the management of an accountancy organisation that is a thought leader, membership body, regulator and economy stakeholder. There are continual encounters with the members, the firms, the government, parliamentaly committees, other economy stakeholders, the press, as well as professional bodies in Cyprus and abroad.
ICPAC's work already involves a close working relationship with ACCA. The bodies have successfully run a Joint Examination Scheme for many years, which undoubtedly made a massive contribution to the development of the accountancy profession in Cyprus.
Furthermore, the two bodies work together in the fields of learning and development for members, students and firms. ICPAC also outsources the monitoring of audit and anti-money laundering work to ACCA. The bodies share students and members, and Iordanou sees a future where they only work more closely. 'We are reviewing on a constant basis how we can further the relationship.'
He says: 'As accountants, our role is that of credible consultant, trusted adviser, objective reviewer and professional leader.'
Just as well. The current environment, particularly following the invasion of Ukraine, presents particular challenges for accountants, especially in Cyprus. With one of the closest working relationships to Russian companies until recent years, Cyprus has seen much business lost due to implementation of the sanctions imposed on Russia.
Iordanou's CV
2012: General Manager, Institute of Certified Public Accountants of Cyprus
2004: Chief accountant and (from 2009) internal auditor, Human Resources Development Authority of Cyprus
2002: Business, financial and governance consultant
2000: Financial controller, Assiotis Home Plaza
1999: Financial controller, JG Cassoulides & Son
1995: Credit officer, Bank of Cyprus Factors
Working through the nation's economic issues has placed ICPAC and its expert members at the centre of consultations in areas like tax, enhancing incentives for business activity, attracting foreign direct investment and compliance. 'We have a lot of interaction with government, parliament, the economy and business community.' That means 'the voice we have becomes even more relevant and sought after'.
Big issues
Iordanou has views on other big issues of the day too, not least ESG (environmental, social and governance). 'We need to go back to basics and try to understand what we mean by ESG,' he says, voicing concerns on whether investors, markets and ordinary people can effectively read and understand a set of financial statements as they are currently presented.
ESG, he says, needs 'breaking down not only to the overarching theory, but into the various practical elements, which could ultimately help each one of us in achieving a pragmatic presentation of a business' financial affairs, and engage in sustainable policies and practices'.
Of course, accountants, or at least auditors, may be on the brink of a whole new line of work providing assurance on non-financial reporting, especially if the EU mandates reviews as part of the Corporate Sustainability Reporting Directive, which is currently in the process of putting strengthened disclosures requirements into EU law.
Trusted adviser
But as well placed as accountants and auditors may be, there is a debate as to who would be the appropriate professional to endorse this information. For Iordanou this is a moment to stress the enduring values, trust and credibility accountants bring to the economy and society.
'We need to adapt to developing conditions in the markets and in society. Our role is not confined in recording numbers and figures, or doing audits because they are required by the law. Our role is that of credible consultant, trusted adviser, objective reviewer and professional leader.'
And the core value accountants need to carry into the future? 'As the future is so unpredictable, with digital technology shaping its course, accountants need to adhere to their ethical values and religiously safeguard the element that differentiates them from any other profession – trust.'
Especially important, Iordanou emphasises, is that as sophisticated as technology may get, it is unlikely to remove the need for human accountants who will be conducting the critical thinking and taking the ultimate decisions. 'The profession will, of course, be affected by the digital progress, yet other functions and skillsets will emerge that will substitute the ones that shall be obsolete.'
Iordanou's top tips
Choose an academic background that will assist you in your personal development and professional career
Keep building on your basic initial studies to expand competencies and knowledge
Work for employers who give you what you need to achieve your professional objectives. Always measure the incremental benefit of your current employment vis a vis other opportunities.
Education is the most important personal investment. Hence, treat it as such by applying the cost and benefit equation. Place on one side the cost of your choices (eg financial, time, difficulty, etc) and on the other place the benefits to be derived from your choices (eg opportunities, ease of employment, potential promotions, time factor gain, etc). Then lean on the side that carries the most value and gives the biggest positive outcome to you.
Always be relevant!
Motto "We don't carry out the struggle for money, but for virtue", Kyriakos Matsis, freedom fighter of the Cyprus liberation struggle 1955-59
Next generation
But that's if people can be recruited to the profession. Iordanou reflects long and hard on the struggle to find people willing to take on the training commitment. Accountancy may fall short on the younger generation's preferences, he speculates, as other options take over the 'dreams and aspirations of young people. Yet he believes it is important to showcase that the underlying principles and factors for a promising professional journey remain more or less the same.
Recruitment difficulties aside, Iordanou's belief in the core values of accountants suggests they still have a bright future. His own conviction is testament to that.
'Apart from having the overall responsibility for the effective running of ICPAC, I thoroughly enjoy what I do, which is being creative and making things happen, maintaining a balance between various factors and situations, and making new and/or expanding networks of friends and associates.
'It may entail a massive numbers of hours, lots of travelling, and many stressful and cumbersome situations which can sometimes lead to frustrating and energy-intensive situations, but it's worth it – no doubt about it.'
Iordanou's achievements
Served as the President of the Parallel Parliament for Research, Innovation and Digital Governance (2019 – 2021)
Served as Council member of ICPAC (2002 – 2011) and as the Vice President of ICPAC 2009 -2011
Served as Board member of the Cyprus Istitute of Internal Auditors (2006 – 2011)
Participates in two poetry editions (2022 and 2023)
Participates as a lyricist in music album launched in 2023
In his earlier years, he practiced as an umpire in badminton, playing in local and international tournaments
The original version of this article is published on ACCA's magazine site, AB Magazine.
To the top